The Crime-Terror Convergence: Countering Hezbollah's Growing Empire in Latin America
In recent years, Hezbollah has developed a significant presence in Latin America. Its continued terrorist activity and expanding financial empire, built on drug trafficking and money laundering, is becoming a growing U.S. security concern, as demonstrated by the creation of a new Hezbollah Financing and Narcoterrorism Team (HFNT) at the Department of Justice in January. On March 22nd, the Center for a Secure Free Society (SFS) hosted a panel of U.S. national security experts to discuss how the United States can successfully address the growing convergence of international terrorism and transnational organized crime from which Hezbollah benefits.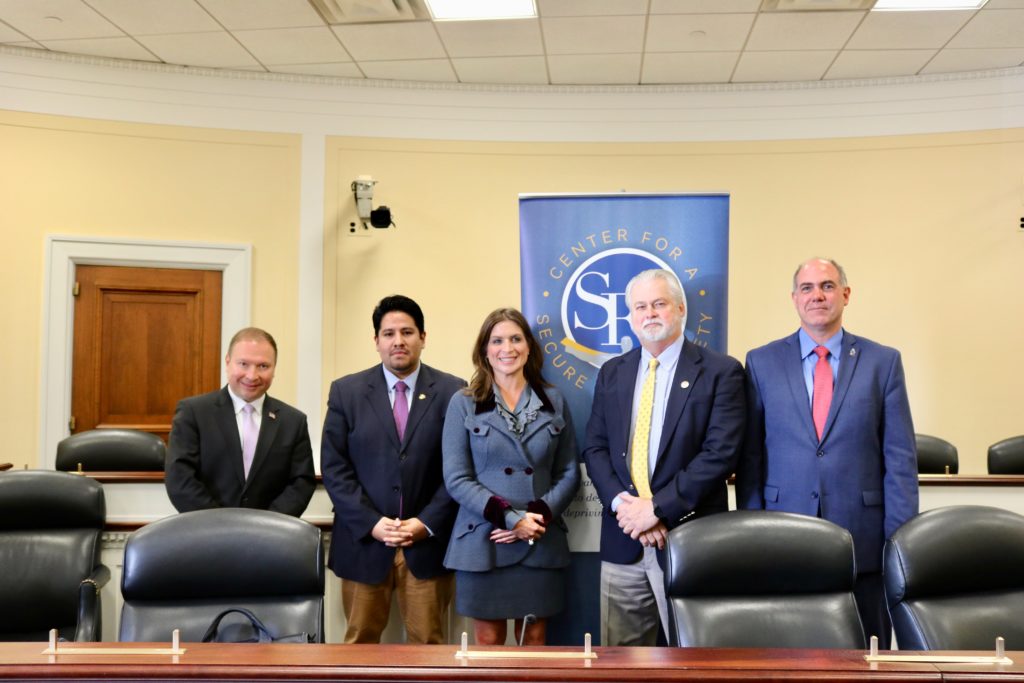 The panel was moderated by SFS Senior Fellow JD Gordon and consisted of SFS Executive Director Joseph Humire, Vanessa Neumann, author of Blood Profits and president of Asymmetrica; Charles "Sam" Faddis, retired CIA Operations Officer and former chief of the CIA's Counterterrorism Center's WMD Unit; and Derek Maltz, former director of the Drug Enforcement Administration's Special Operations Division.
Humire initiated the dialogue by emphasizing that U.S. sanctions have been ineffective in curbing Hezbollah's activity, and collaboration with regional partners is necessary to enforce this kind of unilateral action and ultimately dismantle Hezbollah's networks in South America. Neumann, who had just returned from the Tri-Border Area, explained that Brazil faces a variety of complicated issues, primarily that the Lebanese population in Brazil make up the primary merchant class and facilitate the majority of smuggling and money-laundering into the country. Further, she added while there is not a direct link between Hezbollah and BCC, the Brazilian mafia, these groups often take advantage of their mutual interests and the gray areas between their operations. She ended by saying that Venezuela is the heartland of Hezbollah in Latin America, and it is difficult for Brazil to differentiate between genuine Venezuelans entering Brazil and Hezbollah members with legitimate Venezuelan passports.
Faddis and Maltz discussed at length the need for inter-agency cooperation and a "unity of effort" between the DEA and intelligence community in order to successfully combat this security threat. Both panelists acknowledged the lack of communication between different agencies had hurt efforts in this area and emphasized the need for strong leadership in order to align intelligence and law enforcement priorities and keep members accountable. Project Cassandra, an effort led by the DEA to undercut Hezbollah funding from illicit drug sources, served as a small-scale example of the kind of cooperation necessary.
Drawing on his experience as an expert witness in a variety of Latin American trials, Humire provided insight on the perspective of Latin Americans, highlighting that Latin Americans do not necessarily understand jihadist groups, but they are fully aware of transnational organized crime. The convergence between the two is often not recognized and this connection is intentionally veiled by the skillful compartmentalization that Iran achieves in its operations there. He highlighted the groundwork of Ghazi Nassereddine, a Venezuelan diplomat in Syria who builds and isolates networks that ultimately prevent significant leaders such as Venezuelan Vice President Tareck El-Aissami from being linked to Hezbollah. Neumann added that the infiltration of people deeply positioned in the Venezuelan financial and political system has led the state to become a part of the crime-terror pipeline. She further maintained that terrorism is not endemic, and Venezuela needs U.S. assistance to combat it.
Ultimately, the conversation shed light on the relationship between terror and crime in Latin America and encouraged U.S. security agencies to collaborate in order to prioritize action in the region.