President Trump's strategy against ISIS was proclaimed as vastly different than his predecessor.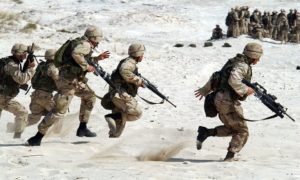 An article by Rowen Scarborough in The Washington Times entitled, "Trump's war of annihilation strategy against Islamic State frees military to quickly seize territory," debates the new policy and the on-going situation in Iraq and Syria. SFS Fellow, J.D. Gordon was quoted in the op-ed as saying,
"President Trump has taken the war against ISIS to the next level," Mr. Gordon said. "First, he's worked with allied forces to surround and physically destroy ISIS fighters in both Iraq and Syria, and second, increased pressure on their finances to include shining a spotlight on Qatar's support to terror groups. Simultaneously, he's enacted extreme vetting for numerous countries where it's near impossible to screen out ISIS operatives and sympathizers."
He adds, "the [administration's] changes are more significant. For the first time, he said, a U.S. administration is calling out Qatar, via Persian Gulf allies, for its ties to Sunni terrorism."
Read the full article, by Rowen Scarborough, here.